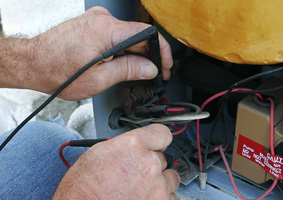 Your air conditioner and heater can have issues at the peak of the summer or cold of winter. We repair all makes and models.
Emergency Air Conditioner Repair When You Need It
Call us now at (727)810-2260 / (813)996-2044 to schedule a service call.
A well-performing air conditioning system is crucial for your indoor comfort during the summer months in the Tampa Bay area. Whether you need to cool your home, office, or commercial space, dependable air conditioning repair and maintenance service is essential for consistent system performance. J & L Air Conditioning offers the professional AC support you need at any time.
The skilled technicians at J & L Air Conditioning are standing by to help you solve all of your air conditioning challenges. No matter what your specific AC need might be, you can request help from our experts at any time.
Have Questions?
Ask any questions about one of our air conditioning products or services. Call us at 813-996-2044.
Avoid The Need For Repairs With Regular Maintenance
In order to avoid discomfort in the heat of summer or chill of winter, it is important to ensure your HVAC systems are working properly beforehand. That's where our HVAC professionals come in. Our crew members have both the knowledge and expertise to ensure that every HVAC unit, no matter the make or model, is running at peak performance.
When you find yourself with an inoperable unit that needs a complete replacement or you just want an bi-annual tune-up, J&L Air Conditioning in Land O Lakes FL is here for you. We have specialized in heating and air conditioning in the Land O Lakes area for years, and no problem is too big or small for us.
Our customer satisfaction comes first and we would love to show you our difference.
To schedule an appointment for services pertaining to heating or air conditioning, please contact us now at (727)810-2260 / (813)996-2044 to schedule a service call.
Land O Lakes Air Conditioner Repair
Also serving Lutz, Wesley Chapel, Cheval, and Odessa